Our SDT series single-phase to three-phase converter can solve production inconvenience because of some areas with the three-phase electric power restrictions, also solved some user requirements that can't apply for the three-phase electric because of space limitation. JUNXELE try to make power life more easily.
Currently our product can up to 100KW ,if customer need bigger ,we also can produce.
Output pure sine wave.
Technical Features:
1. The input voltage, output voltage, frequency and phase can be custom made.
2. Two kinds of start mode: Step Down Voltage Start and Variable Frequency Start. VFD is especially used for taking 3 phase inductive load more easily. This function is very convenient for users and also reduce frequency converter's usage, which reduced the cost of equipment investment, easy to connect wires and control.
3. Output AC Power is suitable for all types of home appliances,electric tools, electric motors etc.
4. Using the fifth generation efficient IPM intelligent module from Japanese Mitsu-bishi, high efficiency and stable performance. It with powerful protection function for short circuit, over load, over temperature. Service life can reach 15-20 years.
5. Pure sine wave output. with good transient response, little harmonic distortion, higher conversion efficiency and stable output voltage features.
6. Adopted low frequency isolated transformer, safe and reliable, single phase input power is completely isolated from three phase output power, high conversion efficiency, high instantaneous power, stable performance and low load loss.
7. Adopts new magnetism material, largely reduce machine consumption, making efficiency maximum up to 98%.
8. Adopts America DSP chip, safe and reliable.
9. Adopts black pure aluminum radiator, which confirms the best radiating performance
10. Converter has the function of filtering the grid disturbance and interference at the same time, which is a good performance of stabilized voltage and frequency power, to provide a more stable and pure power supply environment for the back end devices
11. Intelligent fan speed control system, low no-load loss
12. LCD display, high efficiency, easy installation
13. The output frequency 50Hz/60Hz can be set


Model

SDT-3KW

Isolation

Low Frequency Transformer

AC Input

Input rated voltage(VAC)

Single phase 220V

Input rated current(A)

13.6A

Input rated voltage range

110/120/220/230/240Vac optional

AC Output

Rated AC output power

3KW

AC output waveform

Pure sine wave

Phases

Three phase, 4 wires

Output rated voltage

380VAC ±3%

Output rated current(A)

4.5A (per phase)

Output voltage range

380/400/415/440/480Vac optional

Output Frequency

50Hz/60Hz±0.05Hz

Power Factor(PF)

0.95

Overload Ability

150%, 10s

Efficiency

>93%

Waveform distortion rate (THD)

<3%(Linear load)

Crest Factor (CF)

3:1

Display

LCD

Electrical insulation properties

2500Vac, 1 Minute

Ambient temperature

-15~+55℃

Using environment humidity

0~90%,No condensation

Protection

Input under voltage, overvoltage, output over-current, short circuit, overheating etc.

Structure

Cooling method

Fan-cooled

Noise

<40dB

Degree of protection

IP20(indoor)

Using altitude(m)

≤3000

CE Standard

EN60950-1:2006+A11:2009, EN61000-6-4:2007+A1:2001, EN61000-6-2:2005, EN61000-3-12:2005, EN61000-3-11:2000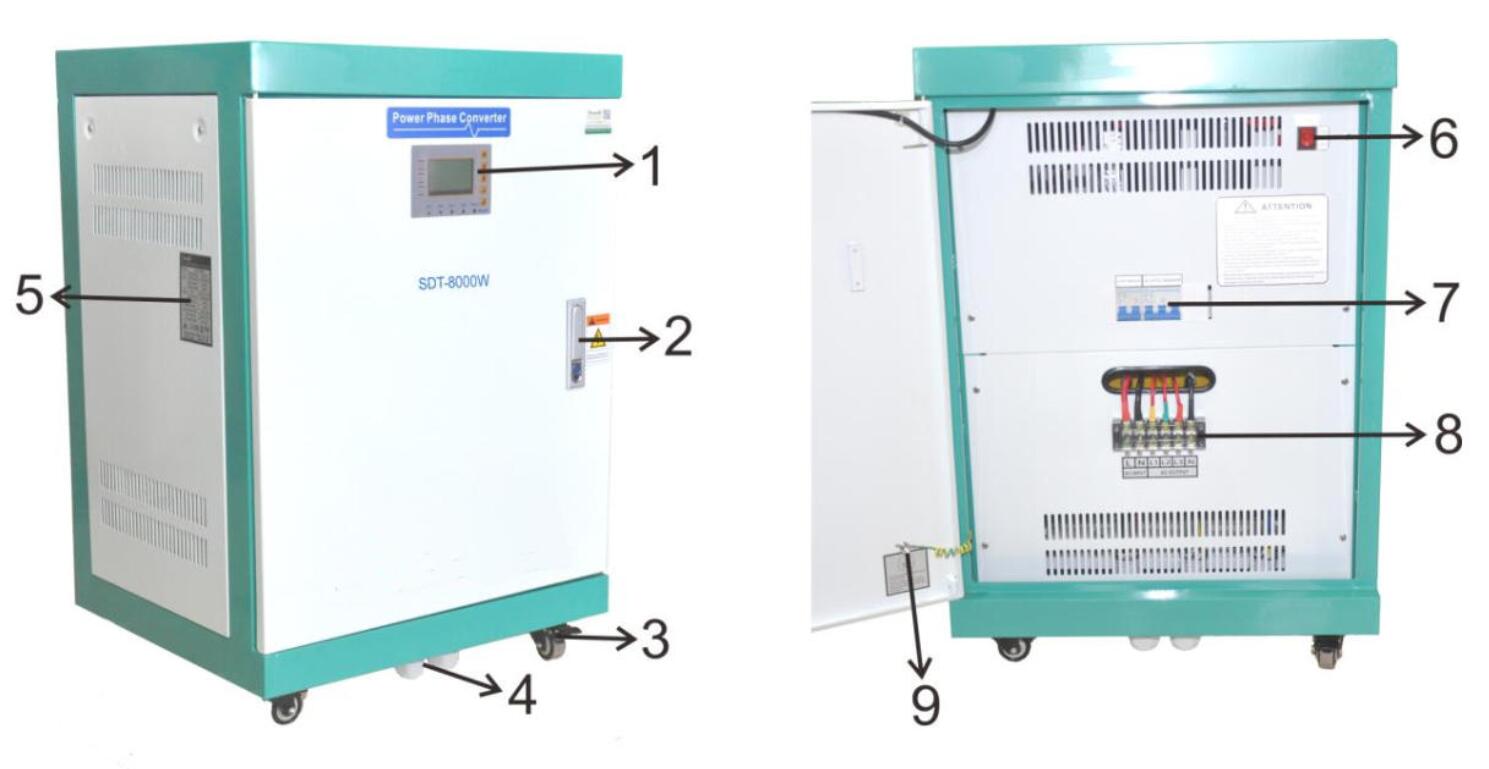 Here to see some of our stabilizer produces.